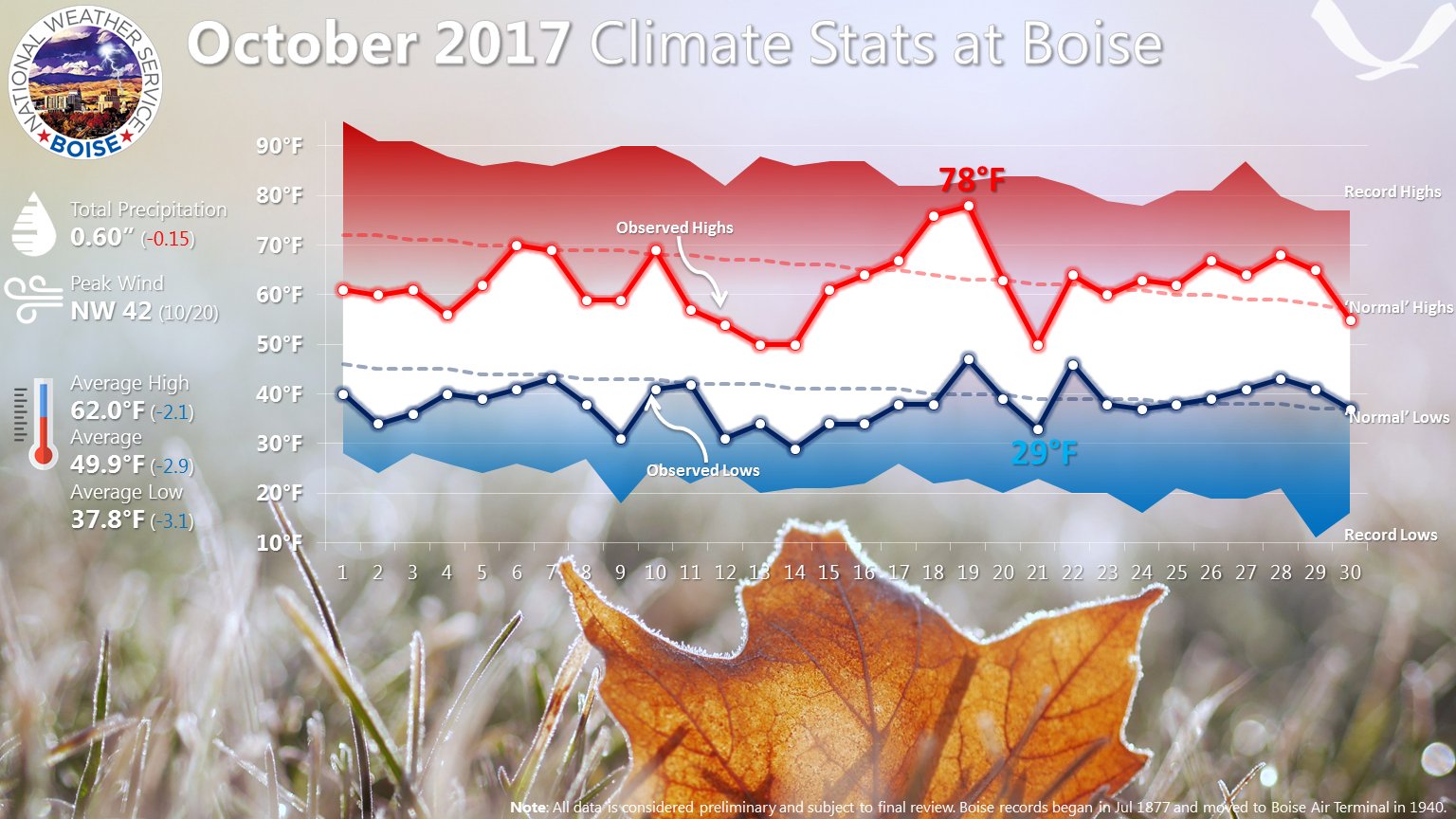 October 2017 ranks among the coldest 22 percent of Octobers at the Boise airport. Temperatures averaged 7.1 degrees below normal from the 1st through the 16th, and 1.3 degrees above normal for the rest of the month. Precipitation totaled near normal. The first freezing temperature of the season was the 31°F on the 9th, a day ahead of the average date.
There were no record highs, lows, or daily precipitation amounts.
During the first half of the month, cold upper level troughs were the dominant features. Brief periods of west or southwest flow aloft raised temperatures to near normal on the 6th, 7th, and 10th, but there were no above normal daily averages.
During the last half of the month, temperatures were near or above normal most days, thanks to west or southwest flow aloft, and strong upper level high pressure ridges on the 23rd and 24th, and again on the 27th and 28th.
This warmer pattern was briefly interrupted by a north Pacific cold front which crossed the Boise area around 4:30 am on the 20th. The frontal passage was accompanied by northwest winds gusting up to 42mph at the airport, causing visibility restrictions in blowing dust. Rain settled the dust a couple of hours later as a cold upper level trough pushed inland behind the front. Precipitation on the 20th and 21st totaled 0.37 inch at the airport. One location closer to the foothills reported around half an inch of rain.
On the 29th, the upper level ridge, which had kept Boise warmer than normal on the 27th and 28th, shifted west. This put our area under northwest flow aloft, allowing cooler air from British Columbia to spread south across the northern intermountain region.