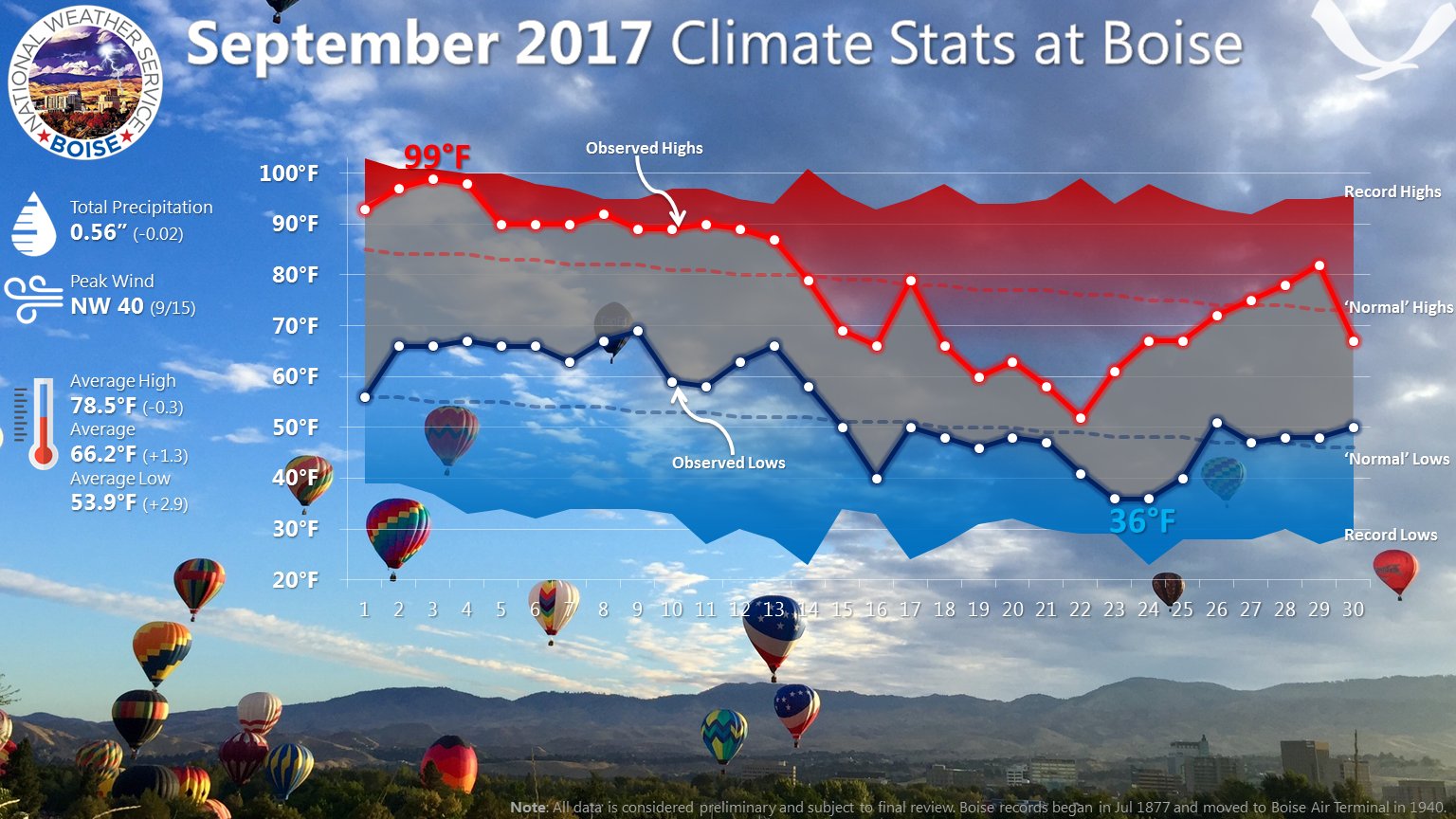 Summer abruptly changed to fall following a cold front on the 14th, a week before the fall equinox. Temperatures averaged nearly 10 degrees above normal during the first two weeks of the month, and nearly 6°F degrees below normal for the rest of the month.  Precipitation was close to normal.  Smoke from numerous wildfires plagued the region for the first half of the month.
Highs ranged from 99°F on the 3rd to 52°F on the 22nd. Lows ranged from 69°F on the 9th to 36 on the 23rd and 24th, when frost was observed at many locations around the valley. At Boise the average date of the first 36°F degree low is September 25, and the average date of the first 32°F degree low is October 10.  The low of 69°F on the 9th set a record for the date, breaking the old record of 68°F in 1969.  The lows of 67°F on the 4th and 8th, and 66°F on the 13th, tied record high minimum temperatures set in 1998, 1967, and 2011 respectively.
The first half of the month was dominated by a strong and very warm high pressure ridge over the Western U.S. and southwest Canada.  At its strongest, during the first week of September, the ridge extended as far north as Northern B.C. and Alberta.
By the 12th, westerly flow aloft across southern Canada had eroded the north portion of the ridge, and temperatures in our area cooled to near normal by the 14th, ahead of an upper level trough which was deepening and drifting south from B.C. As the trough continued to deepen, it pushed a cold front across eastern Oregon and southwest Idaho during the evening of the 14th.  The trough began a stretch of unseasonably cool fall-like weather which was to last through the 25th, interrupted briefly on the 17th by warmer air ahead of a second even colder trough which originated west of Alaska.
That system brought showers, gusty winds, and the coolest temperatures of the month.  As it exited to the east, temperatures moderated to near normal by the 26th.
From the 27th through the 29th an upper level ridge provided clear skies and slightly above-normal temperatures. But during the night of the 29th, another Pacific cold front crossed the area, followed by more cool, showery, and breezy weather to end the month.